Integration project for Baloise Insurance
Strategic consulting platform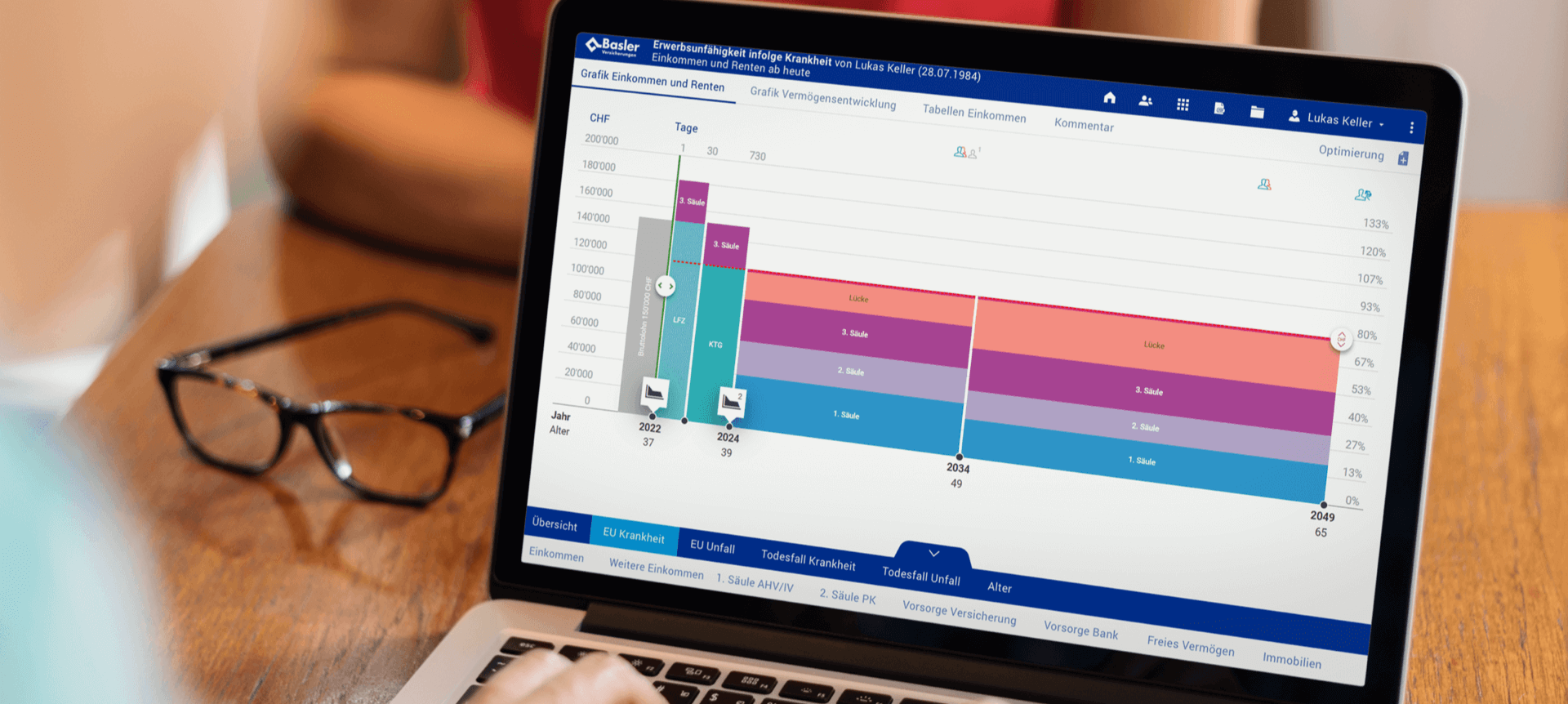 The result
With Omnium, Basler Insurance has a comprehensive digital consulting platform that is used extensively by both thesales team and experts.
The main focus is on pension provision and pension planning. As result of using also other modules such as tax and investments, Basler Versicherung can offer holistic consulting services as well as benefit from economies of scale of a comprehensive IT solution.
The initial situation
The individual solution of Basler Versicherung for pension analysis and investment consulting was technologically outdated. Calculation services for pension analysis were already provided by Braingroup at that time.
Basic elements of the old solution such as an attractive and intuitive front end had been already tried and tested. Keeping it simple while offering comprehensive functionality was focused on when developing the new solution.
The vision was consulting on a holistic level, including an omnichannel strategy. The solution also had to support basic consultations as well as special expert use cases.
The procedure
Basler Versicherung was aware that high acceptance of the software solution among advisors is a key factor for success. Therefore, many frontline employees were involved in the evaluation process in which Omnium received the highest marks of all providers.
The introduction of a comprehensive consulting solution requires adjustments in various areas. Important elements in the project were:
Basler Versicherung were one of the first Omnium customers. The pension module was functionally extended to meet experts' needs.
It turned out that the configuration options and flexibility of Omnium are so great that there was no need for additional customisation of the product. Customisation was limited to visual elements in the frontend and customer print document.
Even before the project started, it was clear that integration of Omnium into the surrounding systems is a central factor. Integration is key in order to improve efficiency and to achieve a high level of user acceptance. At the same time, such integrations are expensive and increase project complexity. Therefore, only a partial integration was done- at a level that provided the optimal cost-benefit ratio.
An important part of the project was the comprehensive training of all employees in the consulting department. This ensured that advisors could use the tool in customer consultations with great confidence and realize it's benefits.
The advantages
Basler Versicherung has established a comprehensive digital consulting platform that guarantees high quality and efficiency.
Omnium can be used for both short consultations and comprehensive expert consultations.
The intuitive front end makes it easy for new employees to get quickly used to the consulting tool.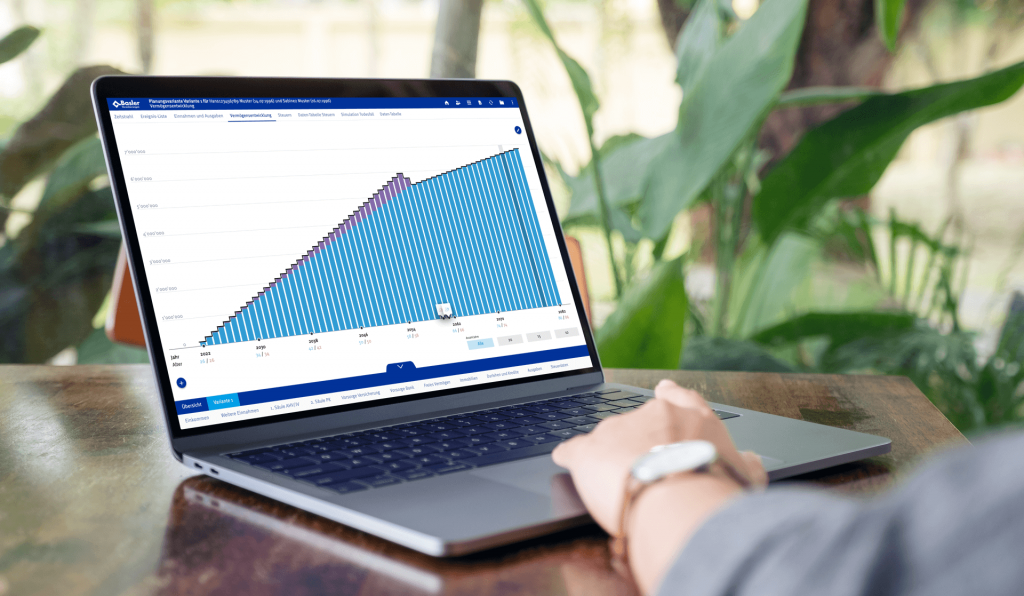 Success Story of Basler

Insurance
«Omnium's omnichannel approach to consulting and architecture are right on target.»
Matthäus Beer, Head of Pensions and Assets at Basler Versicherung
Basler Versicherung focuses on the changing assurance and service needs in the digital age. With Omnium, the hybrid consulting approach is consistently pursued. Customers and consultants are put at the centre of this.
The merging of banking and insurance services continues to progress.
The strategic approach of Basler Versicherung to further develop the consulting-intensive business required an investment in a novel and future-proof financial consulting software.
Two populations – one solution
The investment and pension tools previously used by Basler Versicherung had reached the end of their life cycle. Matthäus Beer, Head of Pensions and Assets at Basler Versicherung, explains: «On the one hand, we have to meet the needs of a broad population of around 700 customer advisors throughout Switzerland regarding pension planning. At the same time, we want to meet the different needs in the investment area.»
Omnium covers these extensive requirements for processes, visualisation and flexibility very well. It connects the advisor and theme worlds of Basler Versicherung and meets the requirements of customers and advisors alike.
Promising approach to a solution
"We focused on equipping advisors with an intuitive tool. In a second step we focused more closely on the customer". Matthäus Beer is convinced: "If the advisor tool is fully accepted by the sales team, they are willing to get involved and support the defined processes in the long term. This in turn is felt positively by the customer." With Omnium, the client advisor is empowered to pursue the hybrid advisory approach for all financial topics within one system: away from isolated expert tools to a holistic advisory suite. The architecture and functionality of Omnium modules are designed to be relevant for both insurance and banking.
Customer loyalty as a result
Omnium at Basler Insurance represents quality assurance for the advisor. The functionalities are packaged in a clearly defined process while depth of detail can be adjusted. As a result, customers enjoy transparent and clear advice that they understand. A happy customer is a loyal customer.
Future opportunities
«The employees of Braingroup had a clear vision with Omnium from the very beginning, which they are still driving forward today with a great deal of innovative spirit,», says Matthäus Beer. He also appreciates the professional and open exchange among each other. Baloise will continue to pursue its chosen path with Omnium in the future. The added value is increased by providing customers and advisors with even more support in all life issues. This will bring consulting and solutions closer together in the future, from which both sides will benefit.